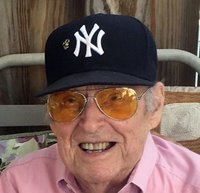 Norman E Bagley
COHOES- Norman Earl Bagley, Jr., 93, passed away at his home Wednesday evening June 9, 2021, surrounded by his loving family.
He was born April 24, 1928, in Cohoes, New York, one of nine children. Raised in a family with a sense of purpose and patriotism, Norman's love of country inspired him, at an early age, to join the Boy Rangers Junior Drum and Bugle Corps. During World War II, they competed regionally and proudly played for parades and other local events. Maintaining his "corps" tradition, and with a continued sense of service, at the age of 17 he volunteered for the United States Marine Corps. Always known for his attention to detail, he even earned a five-day furlough for being the "sharpest" Marine in his unit. While stationed in Norfolk, Virginia, he met his wife, the love of his life, Kathleen Brown, when the two were both still in their teens. Shortly after being married in 1947, the couple returned to Cohoes where Norman joined Ford Motor Company at its Green Island Plant. After 25 years, he was recognized as the first-ever Ford employee not to miss a single day of work. He later retired from Ford in 1978.
Locals knew Norman for always wearing his iconic New York Yankees baseball cap with its distinctive Marine Corps emblem. They frequently complimented him on his beloved hat and lively conversations were sure to follow.
Norman and Kathleen were married for nearly 74 years. In addition to Kathleen, he is survived by his children, Norman (Karen), Bruce (Ellen), Kathleen (Michael), Cynthia (Scott), and Curtis (Laura); and their nine grandchildren and eleven great-grandchildren, as well as his brothers Raymond Bagley and Irving Bagley, and brother-in-law Robert Carpenter.
A private memorial service in honor of Norman will be held at Dufresne Funeral Home on Tuesday, June 15, 2021. In lieu of flowers, the family welcomes contributions to Wounded Warrior Project "Honor & Memorial Donation."
https://www.woundedwarriorproject.org/donate or call 855.448.3997.
Join Zoom Meeting
https://us02web.zoom.us/j/89433404892?pwd=YUhIRmhlRml4c1BCRFhuVmhVOVZhZz09
Meeting ID: 894 3340 4892
Passcode: 805402